Certificates of Substantial Completion (CSP) and other legal notices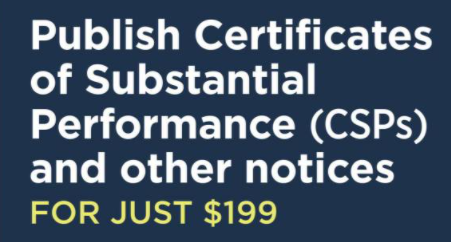 Construction purchasers, owners' representatives and prime contractors can publish any of the following Ontario legal notices on Link2Build.ca:
Certificates of Substantial Performance
Notices of Non-Payment of Holdback
Notices of Termination
Certificates of Completion of Subcontract
Notices of Intention to Register a Condominium
Link2Build charges a flat fee of just $199 per notice—regardless of length. As a value-added service, we also offer the ability to instantly notify all subcontractors and suppliers on the construction team as soon as your certificate is posted.
Notices are published to our site upon acceptance of payment, remain archived on our site indefinitely, and comply with all requirements stated in the Construction Act.